Yesterday I discussed the second Supreme Court oral argument I attended in a recent trip to the Supreme Court. Today I describe the basic controversy in the first oral argument I attended, in a case potentially implicating the First Amendment. First Amendment law is complicated, so this is the first of several posts on the case.
Texas specialty license plates
State license plates, affixed to vehicles to permit legal use on public roads, typically come in one or very few standard designs. But in many states you can purchase a specialty plate with special imagery, designs, coloring, &c. (Specialty plates are distinct from "vanity" plates. A vanity plate has custom letters and numbers, e.g. a vegetarian might request LUVTOFU.) Some state legislatures direct that specialty designs delivering particular messages be offered. And some state legislatures enact laws that permit organizations or individuals to design specialty plates.
The state of Texas sells both legislatively-requested designs and designs ordered by organizations or individuals. (The latter kind require an $8000 bond, covering ramp-up costs until a thousand plates are sold.) The DMVB evaluates designs for compliance with legislated criteria: for example, reflectivity and legibility concerns. One criterion allows (but does not require) Texas to reject "offensive" plates.
The department may refuse to create a new specialty license plate if the design might be offensive to any member of the public.
An "offensive" specialty plate design
Texas rejected one particular design for just this reason. As they say, a picture is worth a thousand words: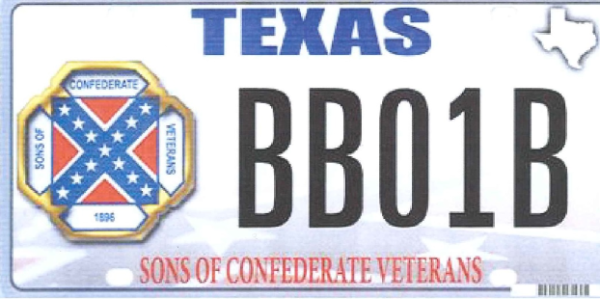 For those unfamiliar with American imagery: the central feature of the Texas SCV insignia is the Confederate flag. Evoking many things, but in some minds chiefly representative of revanchist desire to resurrect Southern racism, Jim Crow, and the rest of that sordid time. Such minds naturally find the Confederate flag offensive.
Is the SCV actually racist? (Assuming you don't construe mere use of the flag as prima facie evidence.) A spokesman denies the claim. Web searches find some who disagree and others who believe it is (or was) of divided view. I find no explicit denunciation of racism on the SCV's website, but I searched only very briefly. Form your own conclusions.
Tomorrow, specialty plate programs in the courts, and the parties' arguments.